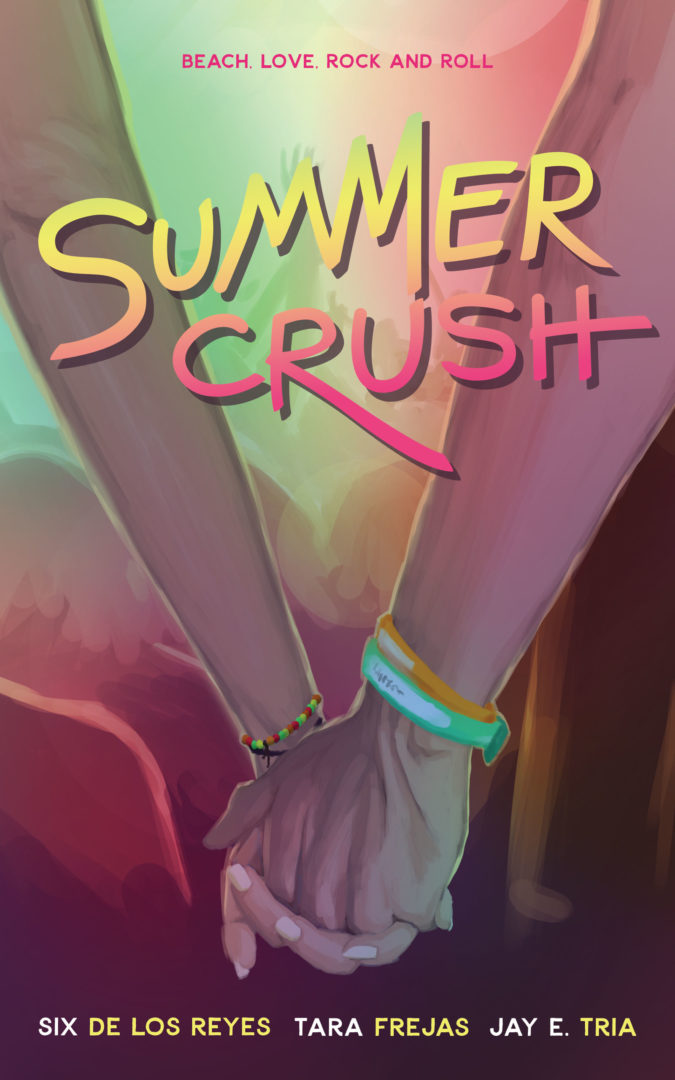 Title:
Summer Crush
Published by:
Six de los Reyes, Tara Frejas, Jay E. Tria
ASIN:
B06Y4CM2CP
Release Date:
April 8, 2017
Genre:
Anthology
,
Romance
Pages:
163
When life, love, and rock and roll come together on the sandy beaches of La Union for music festival Summer Crush, expect nothing less than the crashing of lips, bodies, and waves against the shore, against each other, and against your soul.

Allow these three tales of love to take you away for an unforgettable weekend.

Ana's life as a corporate warrior, graduate student, and girlfriend to indie rock band boy Miki starts to spin out of control, and she wonders if it is love that has to give. (You Only Need Reminding, Jay E. Tria)

Newly reinstated EG Project roadie Filipina Legaspi flies with her band back to the Philippines for Summer Crush, unaware of the emotional waves that engulf her when she sets foot in the beaches of San Juan, La Union. (Almost There, Tara Frejas)

Rhys has three problems: Arabella, the theme song with the Trainguy, and singing live for the first time—and now also on that list is Isaiah, sea-sweet Mango Rum kisses, and long overdue decisions she's intent on avoiding. (Ocean Eyes, Six de los Reyes)
Add on Goodreads
Buy the Book:
Amazon
Great read that made me long for wild beachside revels as though they were true memories (IDK about you but my youthful beach parties ended with regrets and a wicked hangover and aren't things I remember too fondly.) Each story has a different tone and character but all three blend so seamlessly together that I could almost taste the salt in the air, listen to the waves on the shore and maybe fall in love with a handsome rock star.
Bianca Mori, author of One Night
I call this collab 'The Powerhouse Trio'. Yep, I'm calling this that. Jay, Tara and Six just have mad skills in writing, peeps! And for them to come up with one music festival where all their music/band-related characters meet is just mind-blowing.
Miel, author and #romanceclass reader
Summer Crush is a stand-alone, but I've read all the recommended reading for this - Songs to Get Over You (and the whole playlist series), Scandalized, Feels Like Summer, and Just For The Record - and I believe that made this more enjoyable for me. You get the full experience when you read all those other books, and you'll be awestruck at how these three authors made their universes collide. You'll appreciate all the cameos and the inside jokes more. They've put so much work into making their characters believable that sometimes I forget they don't really exist.
Veron, editor and book blogger
This is one of my recent reads and I love this bec its literally three of my favorite authors merging universes together for this amazing beach music festival weekend, and I NEED some getaway time for myself, even if it's just through fiction! Hah!
H. Bentham, author of The Other Story (from Start Here)
What if they didn't work well together? What if I didn't like these authors' universes being connected to one another? What if this anthology made me 'see' which author I liked best? They do, I did, it didn't. The authors know their strengths and their limits, and work their way around them and with one another quite flawlessly. I enjoyed each story individually, and the anthology as a whole.