Early this year, I have slowly immersed myself in the Filipino writing community, thanks to the publishing and writing classes I've attended (#SparkNA and #StrangeLit, waddup!?), and it always amazes me to see new work coming out every couple of months. I feel like I've been saying this over and over since I started this blog, but I'll say it again just the same because it's true: This is a very exciting time for Filipino authors, published or yet to be. Just this summer, Buqo released the BuqoYA bundles and I eagerly joined a book blog tour for the first time in my life, my little way of helping create noise for the featured fictional pieces. I had a lot of fun with that, and learned a lot of things too.
Very recently, a workshop called #JustWritePH challenged participants to write a story and prepare it for publication. It ran from July 1st to August 8th, giving the participants a little under six weeks to finish their manuscripts! The result: a total of twenty new Filipino-authored stories grouped into five different bundles now available via the Buqo app for only $0.99/P45! Isn't that just amazeballs?
Here's a quick peek at the first bundle called For the Feels. Story excerpts, blurbs, and author information are available under the cut.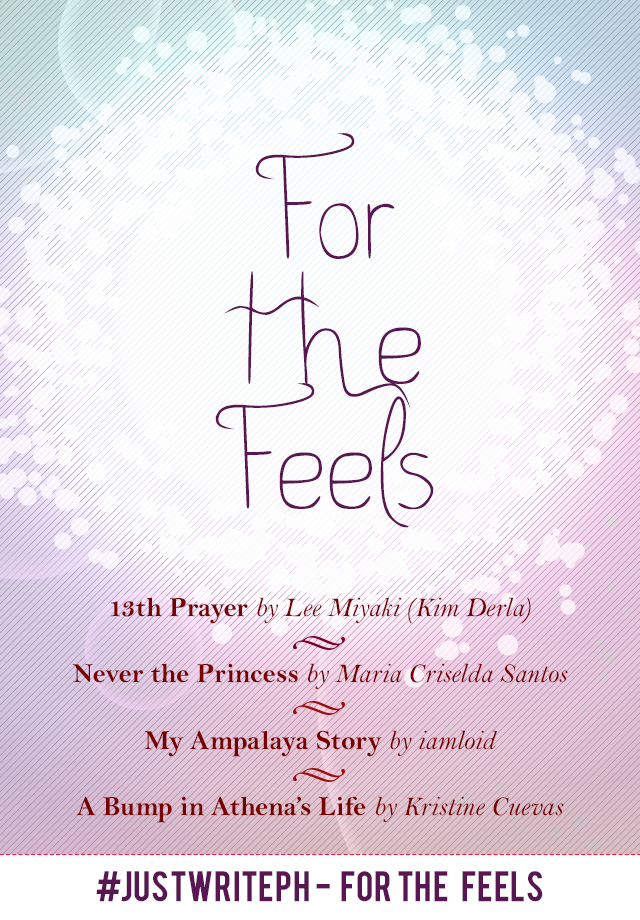 13th Prayer
Lee Miyaki (Kim Derla)
Paano nga ba magmahal nang bawal? Hindi kasi alam ni Eiffel kung paano. Sadyang malakas lang talaga mang-trip ang pagkakataon nang ipinakilala sa kanya ang seminaristang si Jem. Isa, dalawa, tatlo… Simula nang magsulat si Eiffel ng labintatlong dasal, tila nagbago na ang kanyang mundo.
Connect with and follow the author via these channels: Facebook | Twitter | Instagram | Blog | Wattpad
EXCERPT from 13th Prayer
Hindi ako paladasal. Hindi rin ako palasimba. Hindi rin ako mabait. Sa katunayan nga, binyag, Pasko, at tuwing may okasyon lang ako nakakapasok ng simbahan. Wala eh, hindi naman kasi ako relihiyoso tulad ng iba. Normal lang akong tao.
Eiffel ang tawag nila sa akin kahit pa Irish Faith Lim ang tunay kong pangalan. Relihiyoso ang nanay at tatay ko. Sa katunayan, pareho silang officers sa aming parokya. Samantalang akong nag-iisang anak nila, hindi ganoon karelihiyosa. Sa palagay ko, tama nang magsimba ako isang beses sa isang linggo. Minsan, pilit na pilit pa ako noon. Eh kasi, hindi naman ako katulad nila Nanay at Tatay. Hindi ako mabait.
Lagi akong nagtatago kapag niyayaya nila akong magsimba. Lagi akong nakipaghahabulan kina nanay bago ako sumama sa kanila. Kulang na nga lang ay itali nila ako para maisama nila ako sa simbahan. Sobrang pilit talaga ang pagsisimba ko.
Noong nag-college ako, mas madalang na akong sumama kina Nanay sa simbahan. Minsan, hindi na rin ako nakapagsisimba. Syempre, nagagalit si Nanay. Hindi raw ako marunong mag-manage ng oras ko. Eh bakit naman raw sila, maraming ginagawa, pero nakakapunta pa rin ng simbahan.
Naging matabang ang pakikitungo sa akin ni Nanay. Si Tatay naman, ayos lang. Pero, inaalala ko si Nanay. Ayokong magtampo siya sa akin habambuhay. Kaya naman, pagkatapos kong makauwi galing sa university para sa NSTP, dumiretso ako ng simbahan. Napilitan lang ako dahil ayoko talagang pumupunta nang madalas doon dahil may pumupunta naman nang taga-simbahan sa amin.
Aba, ilang araw na nga ba akong hindi nakapunta rito? Mukhang maraming nagbago. Ibang-iba na nga ang lahat. Pati mukha ng tao, ibang-iba na rin. Halos kaunti na lang ang kakilala ko.
"Miss, excuse me. Kilala mo ba si Father Alex?" Isang binata ang nagtanong sa akin. Nakasuot siya ng puting t-shirt at jeans. Maayos ang kanyang buhok. Maputi siya at pansin kong medyo mapula ang labi niya para sa isang lalaki.
"Hanapin mo," matabang kong sagot sa kanya. Bukod sa hindi ko siya kilala, hindi rin ako pinalaking nakikipag-usap sa mga lalaki. Medyo boyish kasi ako. Basta, hindi ko ginustong makipag-usap sa kanila.
---
Never the Princess
Maria Criselda Santos
When their adviser announced that the JS prom is fast approaching, the class of IV-Mahogany was in high spirits, except for Meryll Yuson, a 16-year-old bespectacled bookworm, who wishes to dance with the school's badminton star at the prom. Too bad it seems he already has someone in mind — Little Miss Perfect, who has been gifted with beauty and smarts. Fortunately for Meryll, she has her own mom to play fairy godmother to her, and her friend Trish who gives her all-out support. Will Meryll get the dance she so wants, or will she end up as a wallflower? Will she even attend prom after the news that she learns?
Connect with and follow the author via these channels: Facebook | Twitter | Blog | Wattpad
EXCERPT from Never the Princess
It was another supposedly another sleepy afternoon in Physics class at San Mateo School for Science and the Arts (SMSAS) had Mr. Royce Cornejo not interrupted Ms. Tejera's monotonous explanation of speed and acceleration. The English teacher and IV-Mahogany's adviser cleared his throat and apologized for knocking, while Ms. Tejera abruptly stopped speaking and stepped aside to give room for him.
A slip of paper in hand, the tall and lanky adviser addressed his students and dropped the bomb half of the class had been waiting for:
The JS prom is three weeks away.
Exaggerated groans came mostly from the boys while sighs and protests came from the girls.
"Let's have a Taylor Swift theme!" cried one girl, the class treasurer.
"Yuck!" cried another.
"Are we really going to wear tux, Sir?" asked another boy. The anxiety is his voice was too obvious not to be noticed.
Mr. Cornejo looked at Ms. Tejera helplessly, but the latter just shrugged at him.
The class has never been this excited. Sure, they jumped for joy when classes were suspended. They also got a little hyper when the seniors won in the cheerleading competition, besting out even the participants from the college department. But for IV-Mahogany, no subject or extracurricular activity is as worth waiting for as the JS prom.
"I can now wear the heels my Mom bought for me!" squealed Trish, who is seated beside a grim-looking bespectacled girl with curly hair. For Meryll, the prom is nothing to be excited about.
"I'd rather stay home and read."
Trish looked aghast. "Don't be such a spoilsport, Meryll. Come on, it'll be fun!"
Meryll just sighed and concentrated on the Physics book on her desk. In her peripheral vision, she could see Justin de Mesa, basketball maverick and campus cutie, giving his seatmate a high five.
---
My Ampalaya Story
iamloid
Paalala ang kuwentong ito ay 'di angkop sa mga mambabasang naniniwala sa forever at sa happy ending. Halina't pasukin ang mundo ng ka-bitter-an kung saan walang ka-sweet-an na masusumpungan. Ito ang My Ampalaya Story. One of the most 'ampalaya' work published in an online writing and reading site.
Connect with and follow the author via these channels: Facebook | Twitter | Instagram | Blog | Wattpad
EXCERPT from My Ampalaya Story
"Ang mga ahas nasa gubat bakit nandito ka? Fieldtrip niyo siguro?" Panimula ko habang tinitignan ko siya mula paa hanggang ulo. Nagulat siya sa sinabi ko at dali-daling nagpunta si Paul upang maging kasangga niya. Nice!
"Hmp! Condolence nga pala para sa EX-Boyfriend mong patay na patay sa akin." Sabay smirk niya with matching palupot pa ng kamay niya kay Paul!
"Malandi!" Sigaw ko at napatingin siya sa akin, akala niya siguro nagalit ako. Pero…
"Oh, sumigaw lang ako ng malandi, napatingin ka na sa akin? Bakit, malandi ka ba?" Ha! Ano ka ngayon? Nga-nga!
"Oh, baka mag-away na kayo. Tapusin niyo na ang debate." Sabi ni Sir Values. Okay for the final wave (Plants vs. Zombies lang!?)
"Ito na lamang po ang message ko. Love is dangerous, kaya always take care." Sabi ko habang palapit kay Zinnia upang kamayan siya. Spell plastic? E-R-I-C-K-A.
"Thanks for being a nice opponent." Sabi ko habang nagsi-shake hands kami. Niyakap ko siya at bumulong.
"Kung saan ka man nakakuha ng Bachelor's Degree sa kalandian at pagiging mang-aagaw, i-enroll mo naman ako."
---
A Bump in Athena's Life
Kristine Cuevas
A rejection leads Athena to find a diversion on her plans for the summer. After finding out an assisting job at Star so Bright, particularly to be Callum Young's assistant, she then becomes a pretend girlfriend, offered for whatever reason. And after all the hassle and bump she gets with Callum, there's still that question that hangs in Athena's head… How can an assisting job turns to a pretend girlfriend be of help in getting to Juilliard? It's going to be a bumpy summer for Athena as she discovers that sometimes what you want is not what you always get but still have the best in the end.
Connect with and follow the author via these channels: Facebook | Twitter | Instagram | Blog | Wattpad
EXCERPT from A Bump in Athena's Life
I'm fidgeting at the hem of my shirt as we get closer and closer to my apartment. I don't like being judged. If I spot one hint of pity or any kind of judgment on Callum's voice, I'll quit that assisting job.
He stops the engine. There are no words. It is quiet that I feel claustrophobic all of a sudden.
"We're here," he says afterwards. I hear a click. Through my peripheral vision, I see him unbuckle his seat belt and he turns to face me. "So this is where you live." It's a statement and not a question. I'm about to snap at him when: "Can I stay for a while?"
My head cricks so loud I almost break my neck when I turn to look at him. "You want to stay for a while?" I ask incredulously. "Can't you see? That building is not as posh as the place you probably live in. There might be insects lurking on every corner of the room. I'm sure you don't want any insects—"
"I don't mind," he cuts me off.
I'm in a daze then.
"So?"
And all I can do is nod at him.
The walk to my unit is slower than I use to. I'm thinking of something to say. Something that will make him go away maybe? It's not like I don't want him to be there but what if Jeremy's already there? Sometimes Jeremy is so feel at home that he likes taking off everything he is wearing. Except for his boxers. Gross, I know. But he is my best friend and we've known each other since elementary days. There's not any part of him I haven't seen yet. Yes, I've seen everything of him because he is too liberal he likes to flaunt all of him. Gross again, I know.
I stop and spin around to face him. "You're tired. You should take a rest," I say.
He shakes his head. "I know when I'm tired. Are you trying to shoo me away?"
"Yes, I am," I admit. There's no way to deny the truth anyway.
He narrows his eyes at me. "Is there something you're hiding in your apartment?"
I roll my eyes. "I hid a dead body under my old, dusty couch. I also used his blood as an air freshener. I bet you're scared now."
"I don't mind any of those." He shoves me slightly to the side and walks past me.
"But you're Callum Young!" I yelp in alarm.
The sudden turn and surprised look on his face makes me regret what I said.
"I know I'm Callum Young but, can't I just be a normal Callum Young tonight? When I get home, my mom will ask about the practice. How did it go, blah, blah, blah. Then my dad will ask when I will go back to school to take law. In short, when I'm home, I can't be the normal Callum Young I want myself to be. I love acting, yes, and I'm thankful I got a big name at such a young age. But to have a normal life even just for a night will be something for me," he exclaims.
---
Did you find anything that piqued your interest? Why don't you BUY THE BUNDLE today and enjoy it at a discounted price? But wait–there's more! CLICK THIS LINK to join a giveaway . . . you might just win this bundle for free!
To see what other bloggers will be/have been saying about the #JustWritePH For the Feels bundle, click on this link.

Congratulations, #JustWritePH authors–sending you all good vibes! ^_^