If you haven't been living under the rock these past two years, you've probably heard of this original Filipino jukebox musical, Rak of Aegis. Developed from an idea of having a distinctly Pinoy counterpart to Broadway musical Rock of Ages, the Philippine Educational Theater Association (PETA) produced Rak, which became somewhat of a sensation after its first run in the first quarter of 2014.
Two years later, Rak is back with several new faces and 82 more shows which will run from June 17 to August 28. But whether you're a Rak n00b or veteran, I believe Rak of Aegis 5.0 is something you shouldn't miss–and here are five reasons why:
[ 5 ] The Story
We love our Broadway musicals, we do. I am a fan of Miss Saigon, Les Miserables, Wicked, RENT, Catch Me If You Can, Next to Normal, and the recent Broadway hit, Hamilton, and I'm pretty sure there are more of you out there who can name more favorites. But while I think that they are all amazing musicals that tell memorable stories transcending time, race, and culture, there is nothing quite like a story that's completely your own.
Rak of Aegis is, in its core, a story that celebrates the Filipino resilience. In the midst of a flooded Barangay Venizia, our heroine, Aileen, finds ways to keep her family afloat–literally and figuratively. It's a story about how the common Filipino, despite limited options, adapts to the struggles of daily life. It is entertaining, there is no doubt about it. But the show's honest depiction of how we, as a culture, work toward our goals–band-aid solutions and desperate moves included–grounds the narrative and encourages introspection in the audience. In the (paraphrased) words of Miss Universe Pia Wurtzbach, Rak of Aegis is "confidently entertaining, with a heart."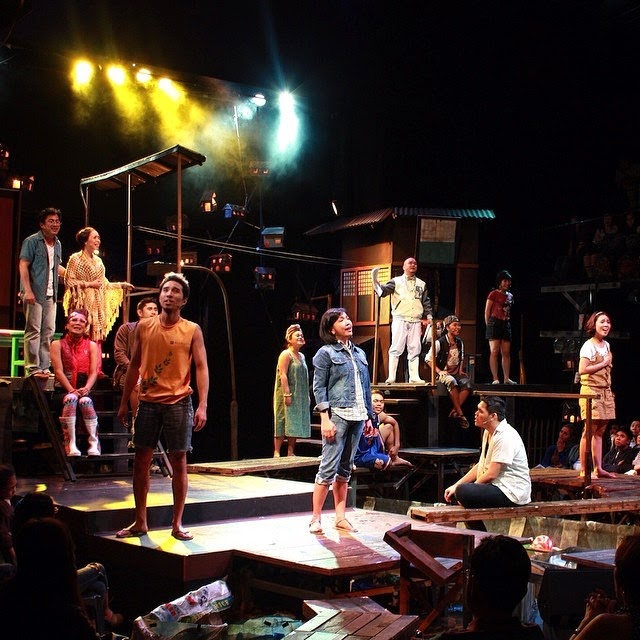 [ 4 ] The Design
Rak of Aegis transports you to Villa Venizia just as soon as you enter the theater. You see Barangay Villa Venizia in its humble, flooded glory, and it is easily one of the most inspired set designs I've seen. Mio Infante (2015 Gawad Buhay awardee for Outstanding Set Design) created for us a universe that is both aesthetic and functional, and I am absolutely in love with it. (I still wish I can ride Tolits' bangka.)
[ 3 ] The Music
If you're the type to think that OPM is baduy, leave your prejudice at the door. Playwright Liza Magtoto (2015 Gawad Buhay awardee for Original Libretto) did an awesome job creating a cohesive story out of Aegis' hugot lyrics, while Myke Salomon's (2015 Gawad Buhay awardee for Outstanding Sound Design and Musical Direction) arrangements of the birit anthems made sure you will want to listen to the songs again and again and again. It's still such a shame we're not going to get a cast recording, but even THAT's a reason why you shouldn't miss the show.
P.S. Two new songs were added to the 4th run last year, and this year, there's one new song in the repertoire. I'm excited to hear it. You should be, too.
Video taken during the Rak of Aegis press launch last May 18. © TheaterFansMNL
[ 2 ] The Cast
There is a reason why Rak won the Gawad Buhay award for Outstanding Ensemble Performance for a Musical. There's is just so much talent in that stage at one time, a local theater n00b would think "Where did all these people come from?" Indeed, we owe our magical Rak of Aegis experience to the principal actors (some of them respected veterans we already know, such as Robert Seña and Isay Alvarez-Seña) down to the last ensemble member who sings and dances their hearts out, slippery wood or water be damned.
Oh and have I mentioned there are several new cast members joining the Rak family this time around? Included in the new lineup are Tanya Manalang and Alisah Bonaobra who will be taking on the role of Aileen. Tanya was previously involved in Miss Saigon (West End) as Kim, while Alisah Bonaobra is The Voice of the Philippines Season 2's first runner up. Other actors joining the show are Vince Lim, Carla Laforteza, Tricia Jimenez, Joann Co, and Jon Santos.
[ 1 ] The Experience
When you enjoy a work of art, you take a piece of it with you as you step out of the theater, cinema, or museum. This is exactly how I felt when I left PETA Theater after seeing Rak for the first time. I took a piece of the experience with me and tried sharing it to everyone I know, so that they too can experience it. The show and the people behind it have made a more passionate person out of me, and I know of people who have also pursued different passions after catching the Rak magic. Sure, we can't all be theaterfolk, but the show has affected us in many different ways. There are some of us who were inspired to write things, some who have made it a point to watch more local productions, some who listen to more OPM, and some who continuously support the artists involved in the show. Watching Rak of Aegis has opened up different opportunities for a lot of people, and that's a win in my book.
Try watching the show once and you'll see what I mean. I've seen the show nine times and the experience is different for me each time. And because no two shows are exactly the same, I will be seeing it again for the tenth, eleventh, and maybe twelfth time when it opens this month. Why, you ask? Well, you never know–this might be the last time.
Rak of Aegis opens on June 17 and will run at the PETA Theater Center from Tuesdays to Sundays until August 28. Weekday shows are at 8:00 PM, and weekend shows are at 3:00 and 8:00 PM. The PETA Theater Center is located at #5 Eymard Drive, New Manila, Quezon City. [ Google Map ]

Tickets for Rak of Aegis are available via Ticketworld. Or you may contact the showbuyers for discounted tickets!