1) She has amnesia.
2) She's on the run from her father's creditors.
3) She's enjoying her last days on earth.

Ever since Jang Min Hee walked into Gio's small museum, she's given him one excuse after another about why she's vacationing at scenic Boracay Island. Rarely has Gio's neat and organized world been shaken like this. Soon he finds himself scrambling over rocks, hiding in dressing rooms, and dragging her out of bars. But how can Gio tell what's true from what isn't? Their worlds are getting unraveled — one story at a time.

Buy it on Amazon | Smashwords
Paperback versions available at National Bookstore branches
Add it on Goodreads
What Drew Me In
I think that by now, it's no secret to anyone who knows me that I am a bit of a koreaboo. Just a bit now, because I'm nowhere near the fangirl I was several years ago, when Dong Bang Shin Ki were THE hottest boys on the block. (I still enjoy my Korean dramas every once in a while, but now I'm a little more choosy as to which ones I watch. So many things to do, so little time, after all.) So of course, when I saw that one of the characters in Chris Mariano's Cover (Story) Girl was Korean, I knew I had to read it. It took me a while to get to it–the book had been sitting on my TBR pile for a good couple of months before I started reading it–but I did, and boy, I was so happy I did. ^_^
Click on the Continue Reading button for the rest of the review. May contain spoilers–y'all have been warned.
What Made Me Stay
The book started rather slow for me, but even that I felt was deliberate and telling of how Gio's (our hero) life in the island of Boracay is like. It wasn't until Min Hee was introduced that I began feeling a bit of thrill, and I'm sure that was what Mariano intended.
But what really got me going was the way Mariano wrote the island, the people, and the rich culture that thrived in it. With every turn of the page, I felt like I was being taken for a tour of Boracay–not only along the sandy shores, but also in its hidden parts, which seemed even more interesting than the beaches themselves. (I've only been to Boracay once in my life, and reading this made me kind of regret that I didn't do a lot of exploring on the island when I was there.) I loved how I could almost see the paintings Gio curated, how I could almost feel the water on my skin when they went in for a swim, how I could almost taste the calamansi muffins while MinHee ate them.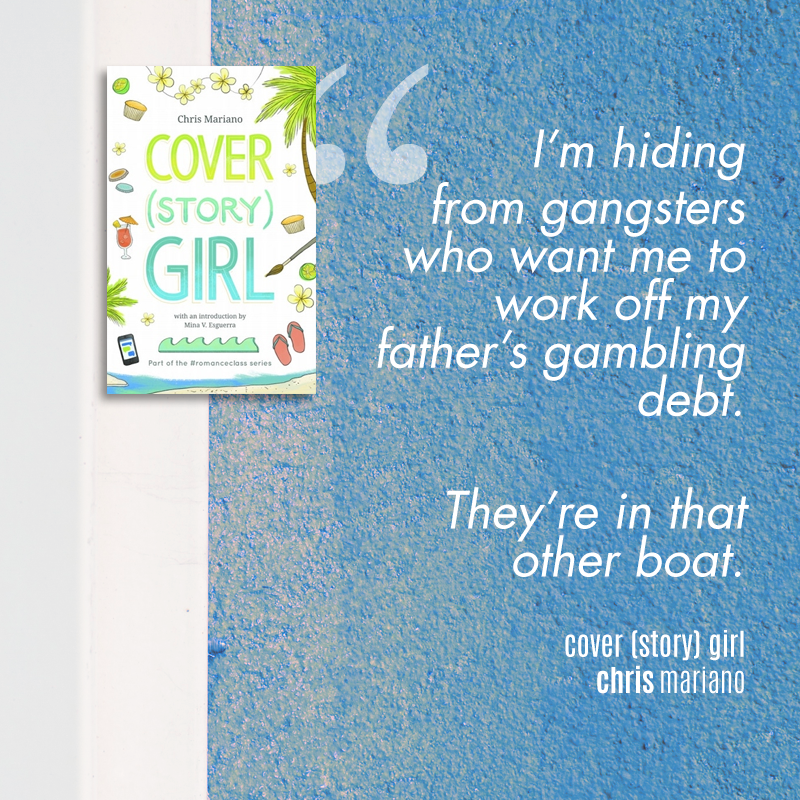 The dynamic between the straitlaced, masungit-but-really-a-marshmallow-deep-inside Mr. Museum and the bubbly yet mysterious Min Hee was also a joy to read. I loved how they both were able to get through to each other, affecting each other's lives in positive ways. Gio had been the anchor that kept Min Hee from getting swept away by her personal struggles, and Min Hee was the sunshine that lit the otherwise dreary life Gio had trapped himself in. It's difficult not to feel giddy, frustrated, hopeful, and giddy again while reading their story unfold. I definitely rooted for both of them to be together! <3
This Book Made Me Wanna
Go to Boracay again and explore the island a little more.
Eat calamansi muffins.
Watch a K-drama. (Hah! I'm watching one now, though.)
Rating

Mariano's excellent use of Boracay as a milieu in Cover (Story) Girl made for a magical reading experience as Gio and Min Hee discovered and fell in love with each other's charms and flaws. It's the perfect reading companion when you're headed for a beach vacation, or when you can't go on a vacation but want to, if only through the pages of a book. If you are a fan of quirky Korean girls (who are a few crazies lower than The Girl in My Sassy Girl) and are fascinated with art/paintings, this book needs to be on your shelf.
Bonus Round: Podcast Excerpt!
Here's an excerpt from Cover (Story) Girl, read by Gio Gahol and Rachel Coates, from the 1st season of the #romanceclass podcast.
About the Author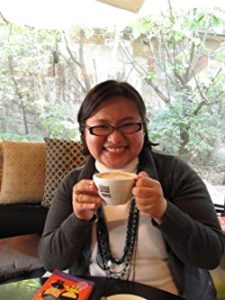 Cover (Story) Girl is Chris Mariano's first published romance work, but her speculative fiction and poetry have appeared in Fully Booked's Philippine Graphic/Fiction Awards Prose Anthology, Philippine Speculative Fiction Volume 7, TAYO Literary Magazine, and Ideomancer.
When she's not writing, she supports Eskritoryo Pilipinas, an organization that encourages kids to appreciate Filipino literature and culture. She divides her time between Manila and Aklan.
Connect with the author!
Facebook | Twitter | Instagram | Blog
Chris' newest book, Wired Differently, was launched during the #romanceclass #FeelsFest in October and is now available on Amazon! GET IT HERE.