Hello and welcome to the first installment of this mini blog project I'm doing–this is #RomanceClass ❤ OPM, where I ask Filipino authors and readers to send in songs they find relevant to the books they wrote or read and I curate them into playlists. The only rule: ALL the songs should be OPM.
Brief background for those of you who just stumbled upon this post:
What is #romanceclass?
#RomanceClass is a thriving community of Filipino authors who write romance in English and publish them (traditionally and independently). It began in 2013, when author Mina V. Esguerra facilitated a writing class wherein the objective was to complete a romance novel in a span of three months. Fast forward to 2016, the community and its body of work has grown immensely, exploring new avenues in order to weave new stories and market them. We have participated in bookish events, had writing workshops, talked about how to write more and market our work better, sold books, held live readings, and recently organized our very first standalone event in April. Just recently, a new batch of authors have typed "The End" to new #romanceclass books which may (hopefully!) come out before the end of the year.
What is OPM?
OPM stands for Original Pilipino Music or Original Philippine Music. It was originally used to only refer to pop songs, but has since included all genres like rock, jazz, hip-hop, and so on. OPM is usually written in Filipino/Tagalog or English, but may, in some cases, also have touches of other foreign languages or local dialects.
Click on the Read More button to get to the first playlist I curated for this project, along with some notes from the authors and readers of the featured books. Links to read more about the featured books as well as buy them are included in the post. Have fun!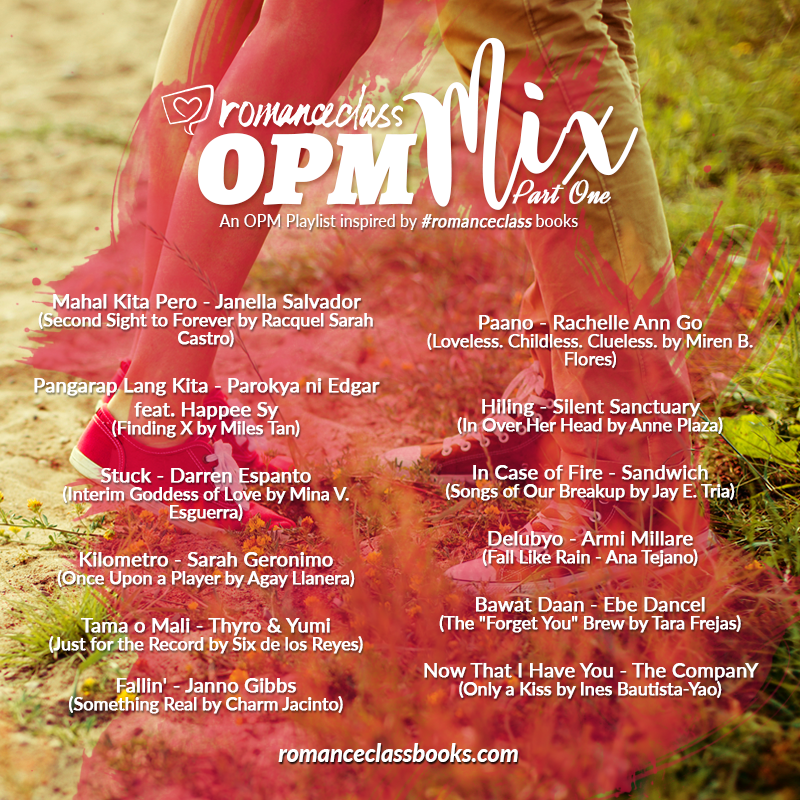 #RomanceClass ❤ OPM Mix # 1
Song: Mahal Kita Pero by Janella Salvador
Book: Second Sight to Forever by Racquel Sarah Castro
"The song talks about waiting for the right time for love." – Racquel, author of Second Sight to Forever
Song: Pangarap Lang Kita by Parokya ni Edgar (feat. Happy Sy)
Book: Finding X by Miles Tan
"This is exactly how they felt when they reached an impasse at a certain point of their relationship. When one didn't feel like they had a choice, the other felt like they never had a chance to begin with. I think it's more of in the spirit of the song and not with the exact lyrics." – Miles, author of Finding X
Song: Stuck by Darren Espanto
Book: Interim Goddess of Love by Mina V. Esguerra
"Hannah has been Quin's admirer for so long that she seems stuck. She couldn't let go. Yet she knows the impossibility of it." – Ella, #romanceclass reader / contributor
Song: Kilometro by Sarah Geronimo
Book: Once Upon a Player by Agay Llanera
"Kilometro's lyrics–"Gagawin ko ang lahat upang sa huli ay tayo, kung kailangan kong tahakin ang kilometrong layo"–sounded to me like something Val Fabian would say, the go-getter that she is. In the book, you will see just how far she would go to get what she wants, whether it's a championship trophy or the heart of the boy she likes." – Tara
Song: Tama o Mali by Thyro and Yumi
Book: Just for the Record by Six de los Reyes
"The title says it all. Tama o Mali is the song version of the novella. I really like how the song tells a story that, in a way, parallels the plot development in Just for the Record. The main characters start off not quite friends, do thoughtless things they know they shouldn't have done, but then come to a point where the reader has to ask: is this really all they are or will there be something more? You come to the point where you have to ask them, which is worse? Continue to do what they know is wrong? Or stay away from each other when being apart feels wrong?" – Six, author of Just for the Record
Song: Fallin' by Janno Gibbs
Book: Something Real by Charm Jacinto
"When I wrote the book, I thought it would be Hailey who would fall deeply in love with Brett, but it turns out Brett was the one who's more in love with Hailey. If you have read the book, you would know some of the things that he did to show his love ( which at that time, he hasn't come into conclusion yet). Also when I wrote that story, I was assigned to a Friends to Lovers trope which is why I chose this song. I can imagine Brett doing nothing and when he hears this song, that's when he realize he's in love with Hailey." – Charm, author of Something Real
Song: Paano by Rachelle Ann Go
Book: Loveless. Childless. Clueless. by Miren B. Flores
"I actually had two songs in my head for this book, but I chose this one because a certain scene in the book could have this song in the background and it'll fit perfectly. I don't want to spoil anything, so if you can, please read the book!" – Tara
Song: Hiling by Silent Sanctuary
Book: In Over Her Head by Anne Plaza
"The lyrics perfectly capture the essence of the book and I think the music brings out the sadness and frustration experienced by the MC (main character). It's like this song was made for the MC and LI (love interest). :)" – Anne, author of In Over Her Head
Song: In Case of Fire by Sandwich
Book: Songs of Our Breakup by Jay E. Tria
"This song fits the premise of the book, and it just twists my gut each time I hear it. To me, it's not a straight narrative. I feel a sort of push and pull in the verses, the kind of I-love-you-I-hate-you dynamic that is familiar to couples on the brink of losing something, or maybe overcoming something. My favorite part is 'break the glass in case of fire/ was the last thing that she told me/ and with that she went to seek out a new hobby." But then the song always comes back to the chorus of "I'll go down with you if/ you'll go down with me," ending with "all the way for you" on repeat so many times. Sigh, my feelings." – Jay, author of Songs of Our Breakup
Song: Delubyo by Armi Millare
Book: Fall Like Rain by Ana Tejano
"The song is 17 hundred times more heartwrenching than the book but they share themes of rainfall. Also, the song's bridge "Patak, patak lang ng patak. Buhos, buhos lang" reminded me of the part where Rain and Mark were stranded in a convenience store. Although I have to note that Armi's is a sad kind of rain, while in the book I didn't want the storm to end so they could be stuck longer. *hearteyes*" – Bentham, #romanceclass reader / author / contributor
Song: Bawat Daan by Ebe Dancel
Book: The "Forget You" Brew by Tara Frejas
"The song is relevant to the story of both couples, Kyle-Allison and Tim-Likha." –TDR, #romanceclass reader / contributor
Song: Now That I Have You by The CompanY
Book: Only a Kiss by Ines Bautista-Yao
"I've recently read Only a Kiss and right after that, saw a video of this song. I felt like the song would go well with the theme of the book which speaks of finally finding the perfect half of yourself in someone you've known all your life." – Tara
Contribute a song (or songs) and be part of this project!
The next playlist will be out on July 15. Can't wait to listen to your song suggestions! Meanwhile, please leave a comment below if you'd like to leave your comments/suggestions about this project. And you can also share the love! Share this post to your fellow #romanceclass reader/author friends or the OPM lovers you know. Thanks so much in advance! <3