Reading Kaith C. Cimafranca's Take Two reminded me of those cozy Star Cinema rom-coms in the 90s where stakes weren't as high, but you still root for the main characters really hard. In Take Two, now-Canadian resident VJ meets her TOTGA (she will deny this if you call him that, btw) at a party 19 years after she left the Philippines to start anew. Marco instantly feels how aloof VJ is, but he doesn't seem to mind, and we understand this little dynamic of theirs as the story brings us back and forth from their college years to the present.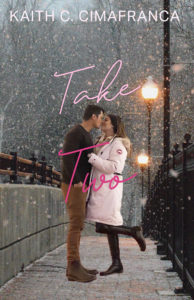 Honestly, VJ isn't really my kind of person. I feel like if she were someone I knew, we wouldn't be friends if she acted all aloof and dismissive around me like she did with Marco when they met again. However, I liked the journey of getting to know her through Marco's eyes and her own musings. At the end of the book, I felt like I gained a friend.
Marco, meanwhile, was a golden retriever (LOL). He was cheerful, patient, and would cling to his person (VJ) every minute of the day if he could. He's the sunshine to VJ's grumpy, and he did make VJ's lonely days a little brighter when he stepped into her life. I liked how he supported her, and how he also relied on her at times. They were each other's anchors, and that's something they really needed, especially being thousands of miles away from home.
Finished: September 3, 2022
Format: ebook
Read on: Kindle app
What I liked: The Pinoyness of it all (the humor, videoke, food as love/comfort language, the Filipino community around VJ and Marco). The way the book made me want to go to Dumaguete to see the sights and try spaghetti Scooby's. How it's low stakes, but not necessarily low in kilig. The way it tackled the struggles of Filipinos living abroad.
What I disliked: The low heat level (LOL). I really think the author could push things further, but maybe she can explore this in her next book/s. wink, wink, nudge, nudge
The song in my head while I was reading this: Maybe This Time – Sarah Geronimo (cover)
Content/Trigger Warnings: COVID-19 pandemic, allegations of cheating during an exam, annulment, parental death (backstory), depression
Overall rating