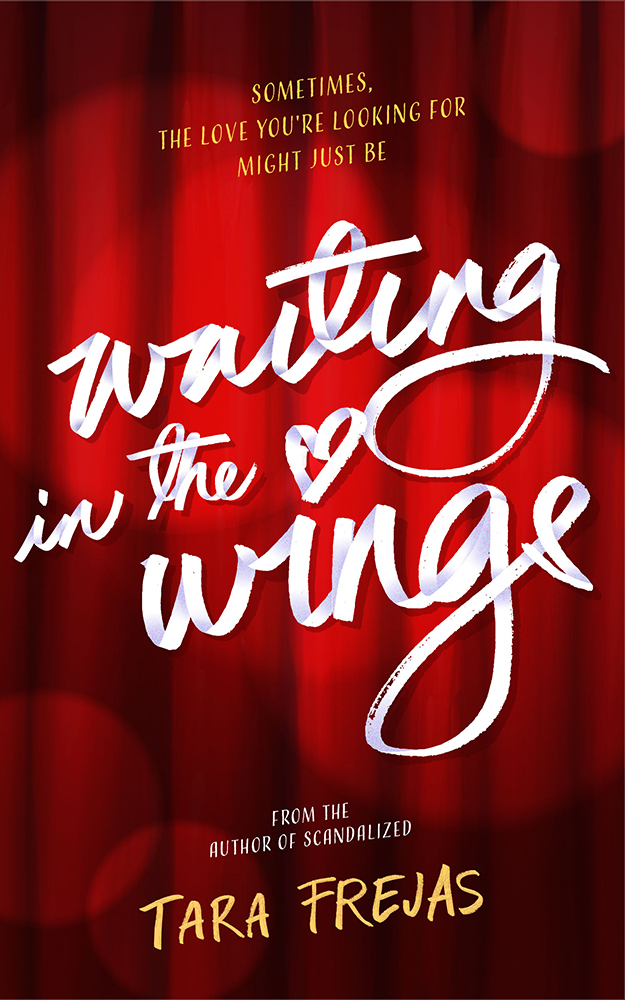 Title:
Waiting in the Wings
Published by:
Tara Frejas
ASIN:
B06WV7BPJ4
Release Date:
February 21, 2017
Genre:
Contemporary
,
Romance
At twenty-three, theatre actress Erin Javier has yet to fall in love or kiss a boy offstage, away from the klieg lights. She is the perfect leading lady—whose heart men would fight for, win, and protect—unfortunately, only until the curtains fall and the lights go down. In real life, Erin is a certified NBSB whose heart has been hoping for a song to dance to.

But when two (two!) men enter from stage left and right, Erin is confused. Who deserves to take center stage in her heart—Mr. Theatre Royalty whose attention and displays of affection make her pulse race, or a good friend whose steady support has helped steer her to success and fulfill her dream?
Add on Goodreads
Buy the Book:
Amazon
Waiting in the Wings may be categorized under romance but it also dealt with other important things such as self-worth, perseverance, and trust that things will fall into place if you really want to make something happen.
Ailla, Le Bibliophile
Ramon Figueroa *hello* meet my new book boyfriend. How can someone measure up to him now?
Sil, The Book Voyagers
Waiting in The Wings is a fantastic New Adult novel about how it is to be a part of an amazing family of Theater Performers. Not only that, but it also pays great tribute to plenty of Filipino composed songs which I consider to be great contributions to Philippine literature. Oh, and did I mention that it's written rather beautifully? It's an amazing book meant to be read by all those who has ever felt negatively about being a small star in a galaxy filled with constellations.
Erin Javier is the cutest character I have read so far. She is this cuddly ball of sunshine, and in Ramon's words, people just can't help but fall in love with her.
Claridge, booknomnom
This novel taught me that true love waits. Not just the romantic kind of love but also the love you have for something you are passionate about like acting. It may take some time for you to get that role or to be able to shine under that spotlight, but you definitely have a chance. All you have to do is to continue working hard and love it with all your heart.
Samantha, Fictionzoned Fangirl
Erin's "audition" at the end deserves a standing ovation. I loved the scene so much. Definitely one of the best "grand gesture" scenes I've read. So much feels!
Angeli, RX Literature
…this book is a love letter to Philippine Theater, and I can't imagine anyone but Tara writing it. She's created a fantastic, but very real world of actors singing original music, creating new things almost every day. She's featured beautiful songs by original Filipino artists, and showed the family-like camaraderie that we usually find in groups of the same circle here. Reading Tara's book is familiar and honestly, stress-free. It put a smile on my face from beginning to end.
This is such a feel-good story. I liked how this is a chaste romance. It focused on emotions and had a good character development for both main character and love interest. I also found it awesome that Tara mentioned OPM songs. She even penned original ones just for this book. This book is so Pinoy, I love it!
Veronica, Brain Tabs
I love how each character finds what they want and making their dreams happen on and off the stage. There are those who finally realize what their heart desires.
Paula, Perks Be With You
 Listen to the Waiting in the Wings playlist here.
WAITING IN THE WINGS
an excerpt, live read by Fred Lo and Gracielle So
#AprilFeelsDay2017 at the U.P. Town Center, April 30, 2017
WAITING IN THE WINGS
an excerpt, live read by Gio Gahol and Gracielle So
#AprilFeelsDay2017 at the U.P. Town Center, April 30, 2017
Waiting in the Wings is part of the #romanceclass catalogue. Please support Filipino authors by buying their work and encouraging others to do the same! <3