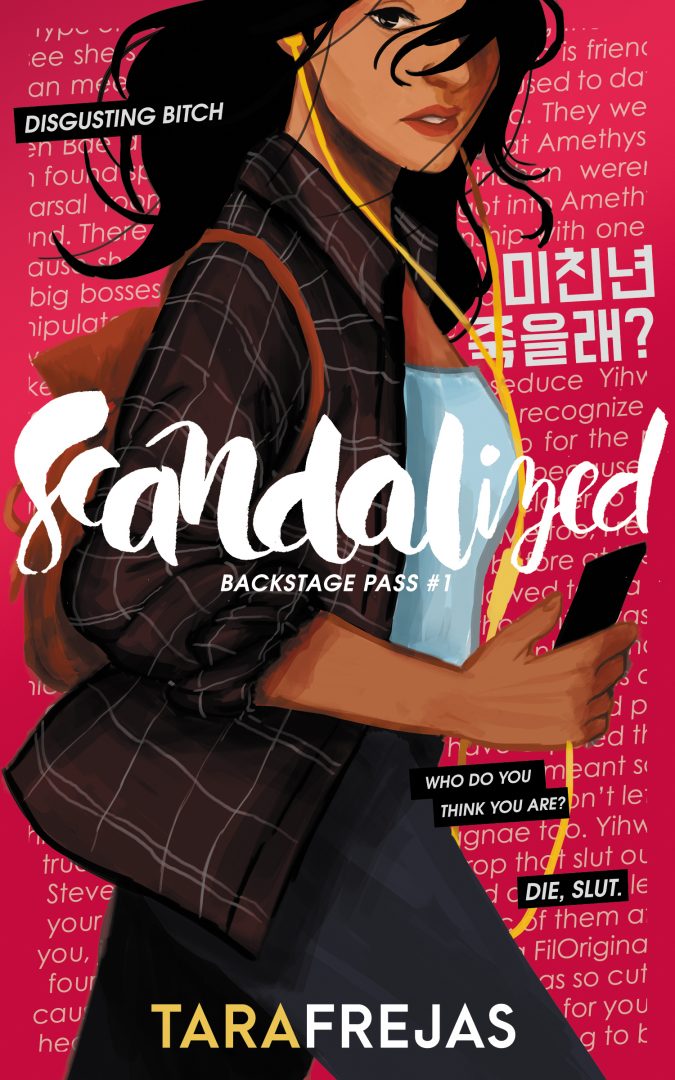 Title:
Scandalized
Series:
Backstage Pass #

1
Published by:
Tara Frejas
Contributors:
Tara Frejas, Rix Forto, Layla Tanjutco, Chi Yu Rodriguez, Shaira Bea San Jose, Porcupine Strongwill
ASIN:
B01EPB5EZU
Release Date:
May 5, 2016
Genre:
Contemporary
,
Romance
Pages:
200
Fi Legaspi is living the dream working in Seoul as a road manager for one of South Korea's hottest bands, East Genesis Project. Until she isn't.

When she finds herself in the middle of a scandal and a hostile fangirl witch hunt, Fi seeks the comfort of home, and to her surprise, not the person she had been pining for for years. All too suddenly it's no longer her career on the line, but also her heart. Will she walk away from everything that matters to her or fight to keep her dream alive?
Add on Goodreads
Buy the Book:
Amazon
REVIEWS
"Tara definitely shows her fandom bonafides with her expert rendition of a sex scandal, KPop-style. Her depiction shows a much clearer understanding of South Korean fan culture than previous books I've read, and her criticism of aspects of this sasaeng culture and the undue sway it holds over Korean idols' lives  makes for interesting reading. Once Tara gets into her groove, I couldn't put the book down."
Ron Lim, author and book blogger, Ron Reads
"…reading Scandalized was a breeze. I loved Tara's other books, so I sort of knew what to expect with her writing, and her newest one didn't disappoint in that area. I loved how real everything felt on the first few pages, and even if I wasn't into the culture, I could clearly imagine Fi and East Genesis Project, and the Amethyst office and Gabriel like they were fully formed characters who decided to settle in my head. There was a certain kind of sincerity in the pages of this book that would capture even a non-K-Pop fan like me."
Ana Tejano, author of Fall Like Rain and Keep the Faith
"Tara just made everything so beautiful—from the narration to the characters' own personalities and voices, from the out-of-this-world fans (there's a harsh reality in that and it happens A LOT) to the crazy industry of music, from taking me places to the comforts of my home country and evendown to the glossary—I was very impressed! And can I just say that I loooove the characters so much?"
April, book blogger, B i n i b i n i
"If you ask me if this is a great novel for KPop fans, especially Filipino ones, to read, I'll say yes, but that's not all. If you ask me if it's perfect for anyone who's ever crushed on a pop or rock star, I'll say yes, but that's not all either. If anyone's ever been bullied or been a bully, this is a story for you too. It's just a great novel all around, and while a familiarity with Korean culture and entertainment will certainly go a long way toward your enjoyment of the book, at its heart this is a story about a person overcoming the pain the world throws at her with a little help from her friends. And that's a win in my book."
Liana Smith-Bautista, editor and book blogger, Will Read For Feels
"...at the end of the book, I felt like I was leaving people I actually knew. Have you ever encountered that? Like, upon closing the book, you start wondering what happens to them after? Whenever I feel like this, I just know that it's a book that I need to share to other people."
Sab, book blogger, Sab the Bookeater
SCANDALIZED
an excerpt, live read by Gio Gahol and Gab Pangilinan
#AllTheFeels at Manila International Book Fair, September 18, 2016
video © Gela Uy
Scandalized is part of the #romanceclass catalogue. Please support Filipino authors by buying their work and encouraging others to do the same! <3