Gorgeous college senior Val Fabian is a player in every sense of the word. She's the star spiker of her university's volleyball team, and she never runs out of dates. But it seems that this year, she has finally been bitten by the commitment bug. She sets her sights on an unexpected target–the unassuming yet ultra-cute Jake Clementia. Val is used to getting what she wants, and is sure she'll snag him before graduation. But in the process of winning his heart, she is sideswiped by a surprise move that sends her tumbling from her pedestal.

Buy it on Amazon | Smashwords | Buqo
Prints are available at all National Bookstore outlets
Add it on Goodreads
What Drew Me In
Volleyball! The truth of the matter is, I am a frustrated athlete. (I am frustrated with many things, but that's another story.) I wanted to be a varsity player in highschool, first for basketball, then volleyball, but my mom won't let me go through the tryouts and trainings because I might hurt myself. So I guess 13-year old me perked up when I saw this book at the Manila International Book Fair last year, and I decided to pick it up! Not a bad decision, I must say. ^_^
Click on the Read More button for the rest of my review. Warning: There may be spoilers.
What Made Me Stay
Val Fabian. Val, oh my dear Val. She isn't exactly the type of person I'd be friends with–I mean, I wouldn't actively seek someone like her out and ask them to be friends–but I loved the way she was transformed throughout the course of the story. She's the girl who has everything: pretty face, great athletic skills (her claim to fame), awesome friends, and hot arm candy. It's impossible not to hate her, or at least be a little jealous.
I must admit that I didn't approve of some of the things Val did in the story, but Llanera definitely made a great case for us to feel for her, to try being in her shoes. I think it says a lot about the way a story is written when you find yourself rolling your eyes at what the main character (MC) is doing, and yet still find it in yourself to understand where she's coming from and hope she redeems herself in the end. I loved that about this book. It makes you root for the bida-kontrabida and doesn't disappoint you in the end.
Favorite Quotes
I loved this. Doesn't necessarily mean I agree with the sentiment, but I loved this line. It shows you the kind of person Val is, somehow, but it also kind of misleads you into thinking that she is this ruthless all throughout. Val is a fierce HBIC, suck it.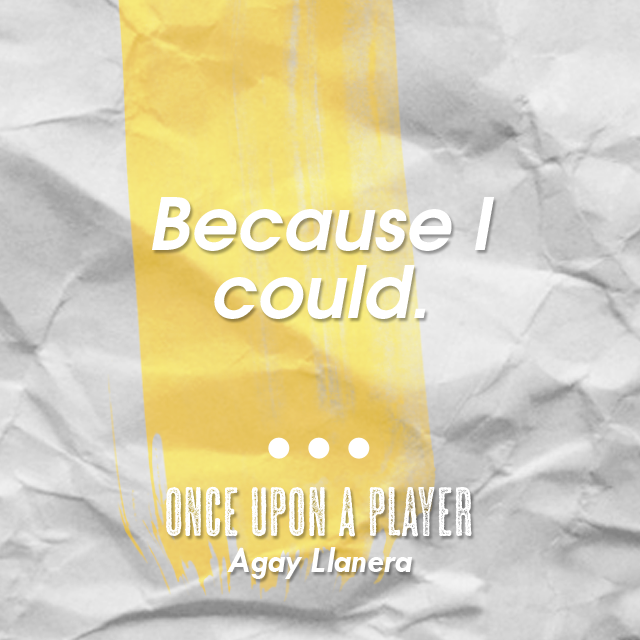 And this one I hated. For reasons. I hated it so much I wanted the person who received this line to slap her across the face and walk away. You'll find out why when you read the book. So do it. 😛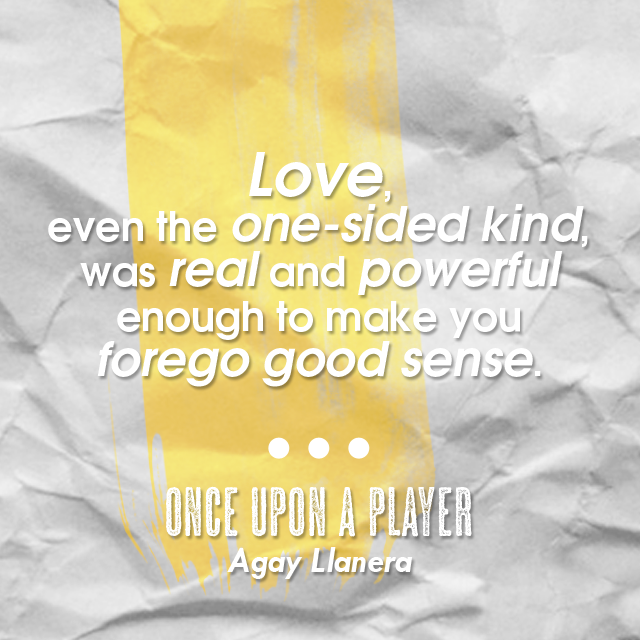 Ah. Isn't this always the way? All I can say is: "SHOTS FIRED!"
Rating

Once again, Llanera brought me into her well-crafted and relatable contemporary universe where athletes are celebrities and humans at the same time. Once Upon A Player is honest, raw, and real, delivering a mean spike to the heart at the right moments. Fudge it.
This Book Made Me Wanna
Write a sports romance novel of my own.
Watch more volleyball games.
Hug Jacob Isaac Clementia, for being a decent gentleman and, well . . . you'll know when you read the book. <3
Hug Val too, of course. That grand gesture took a lot of guts. You go girl.
Author Profile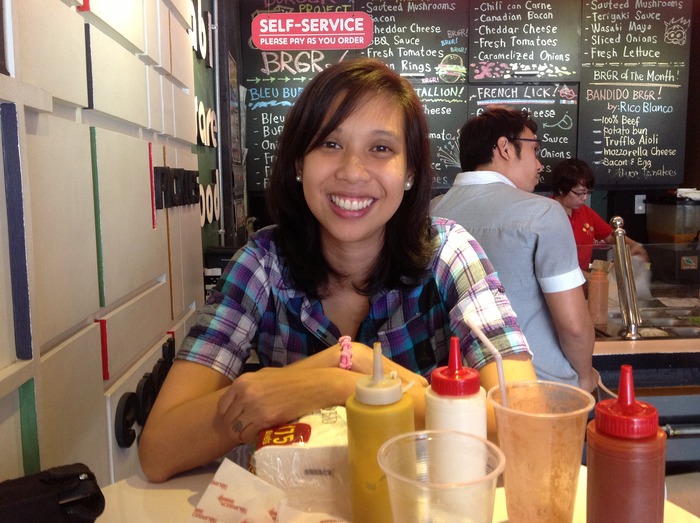 Agay Llanera is a freelance writer for television and video, and a published writer of children's books based in Manila, Philippines.
Also by Agay Llanera: Vintage Love | Choco Chip Hips | This Side of Sunny

Vintage Love is also available in print under Visprint Publishing. Check out your nearest Powerbooks or National Bookstore outlets for it!
Get in touch with Agay via her blog, Agay Writes . . . And Then Some, or on Twitter.