Standing amidst the wreckage of a fifteen-year relationship, Anna finds herself single, unmarried, childless and, at the rickety age of thirty-five, trying desperately to pick up the pieces.

There's a lot of crying and punching, a trip or two, and a list of things to do and be to get her self back. There's the heady scent of a (possible) spankin' new man sparring with the memory of the boy who first captured her heart—and may have stomped all over it.

But what would she know? After all, here she is—loveless, childless, and totally, utterly clueless.

Buy it on Amazon.
What Drew Me In
Honestly, this book had been sitting in my Kindle app for far too long now and I found myself finally browsing it while on a work break. I'd initially been drawn by the word "thirty-five" on the synopsis because it's kind of rare for me now to read romance stories with thirty-something year olds as MCs. I guess it intrigued me to read a romance in the perspective of an MC who's not a teenager or in their early twenties, and well, here it was.
(Please do note that while I have been doing reviews on #romanceclass books lately, I am admittedly not very well read in this genre. I am, however, trying to change that though the chances of me reviewing romance books which aren't written by Filipino authors are very slim at the moment.)
Click the Read More button for the rest of my review. As per usual, there may be spoilers.
What Made Me Stay
Putting it very bluntly, Miren B. Flores's prose is very addictive. It's witty, easy to relate to, and flows so well that I didn't even notice I was almost halfway through the book already when I stopped to get back to work. The book's theme might not be a happy one, but Flores achieved just the right balance between emotionally-charged scenes and lighthearted ones, making this reader feel like she'd been riding an unevenly paced rollercoaster of feels afterward.
I'm kind of mad at Flores for giving me second-lead syndrome, though, but I say this with utmost affection. Getting me to root for someone other than the LI (love interest) doesn't happen a lot–at least not when book characters are concerned–so I consider this a feat. Hear that? That's the sound of me raising a toast to the author. Not wine, though. Can't drink that.
Favorite Quotes
This. This just speaks to me in a spiritual level, so this earns a spot here. 😛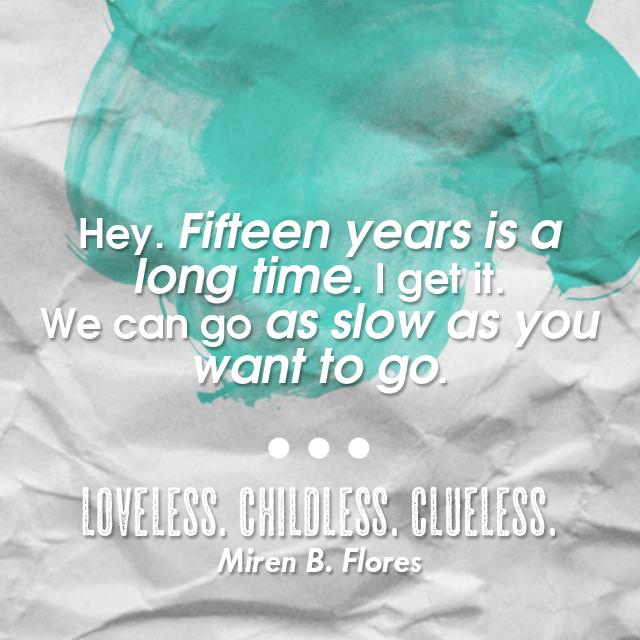 Oh Enzo. Stop playing with my feeble heart. <3
Ugh. Just. I can't deal with this line, especially in the context it was used. GRRRR. Emotional baggage is a bitch, 'nuff said. But it's not like you can't get rid of it so you can fly to better places, right?
Rating

The honesty that Loveless. Childless. Clueless. offers about long-term relationships, breakups, and the things that follow afterward is what makes this book a gem of a read. If this is a preview of what Flores's fictional arsenal reads like, I'm here for more.
This Book Made Me Wanna
Take Krav Maga, probably.
Throw things, because second-lead syndrome. I cry. Enzo, why.
Author Profile
Miren B. Flores has a weakness for bread, British accents, Parisian Instagram feeds, and everything lavender.
Loveless. Childless. Clueless. is her first sorta kinda book–and her nerdy, bookworm-y fourteen-year-old self couldn't be prouder.
You may get in touch with her via Twitter or send her an email via mirenbflores@gmail.com.